Skip to Content
Shocks & Struts Repair & Replacement Services
Keeping your vehicle's shocks and struts in good working order can ensure your car's overall wellbeing and prevent damage and danger. Koplin Auto Care & Tire Pros replaces shocks and struts at our auto repair shop in Fremont, NE. With worn shocks, you can be in for a rough ride. Bad shocks can cause uneven wear to your tires and affect your braking time. Don't put yourself and others at risk when your shocks need to be replaced. Your shocks and struts can become worn out or damaged from an accident or driving on bumpy roads. Our team of experienced technicians and mechanics can replace your shocks and struts to keep you safe on the road. Learn more and schedule an appointment today.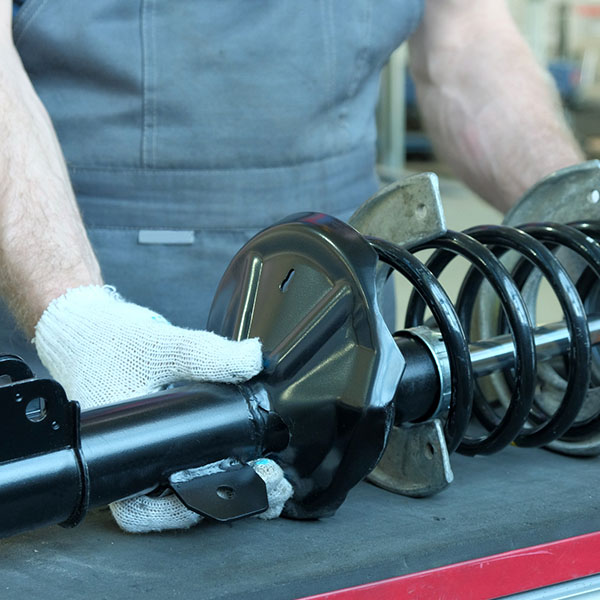 The Differences Between Shocks & Struts
You often hear shocks and struts lumped together, but do you know the difference? We want our customers to understand the work we're performing on their cars, trucks, and SUVs. Learn more about shocks and struts:
Shocks – Also called shock absorbers, shocks keep your car from bouncing up and down. They also improve the handling of your vehicle. Shocks protect parts of your vehicle that are expensive and not very flexible. The shocks absorb the force from bumps, dips, and potholes in the road. As your shocks wear out, you'll start to feel every bump. A shock inspection can determine if they need to be replaced, so your vehicle drives like new again.
Struts – These parts were invented for lighter, smaller vehicles that utilize front-wheel drive. Struts absorb some of the bumps your vehicle drives over. Struts also work to maintain the proper height of your vehicle and are found where the body and chassis are connected. Sometimes struts can be used to do minor alignments.
Expert Auto Repair Services
Shock repair is a relatively simple service that can save you money and prevent significant damage to your vehicle. Our team has the skill and experience necessary to repair or replace the shocks or struts on all makes and models. The process starts with a shock inspection, including a bounce test. We recommend that you have your shocks and struts inspected annually at the very least.