Skip to Content
Muffler and Exhaust System Repair
Professional Muffler & Exhaust System Repair Services
A loud muffler or a dragging tailpipe are more than just annoyances. Koplin Auto Care & Tire Pros provides muffler and exhaust system repair services in Fremont, NE. There are many parts of your vehicle's exhaust system, and if any of them are broken or leaking, they can compromise the engine's performance, increase emissions, and allow dangerous gasses inside your car. Our team of experienced technicians and mechanics can repair or replace your muffler and get your exhaust system working properly, so you are safe and driving an efficient vehicle. Learn more about our services and schedule your appointment today.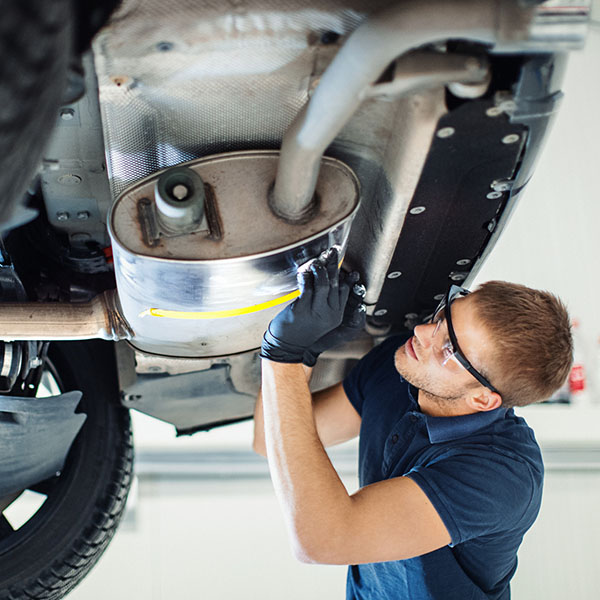 Expert Muffler Repair & Replacement
Your vehicle's muffler is one part of the overall exhaust system. The muffler reduces noises produced by engine combustion and the evacuation of exhaust gasses. Our muffler experts will attempt to repair your muffler, but in some cases, it will need to be replaced. Common muffler repair services including tightening loose connections, patching holes, or re-welding. Mufflers are designed to last from 40,000 to 80,000 miles, but sometimes they fail sooner. Some common signs that your muffler requires servicing include:
Louder exhaust sounds than normal
Clunking noises
Engine misfiring or rattling
Dragging or dangling tailpipe
Unusual exhaust smell
Condensation coming from the exhaust pipe
In-Depth Exhaust Repair Services
Your vehicle's exhaust system is complex. It has many functions, including carrying engine gasses, reducing noise, maintaining engine performance, and reducing or eliminating emissions. Common exhaust problems include leaking pipes, body shell distortion, corrosion, missing parts, cracked or broken brackets, holes or punctures, and plugged converters. Koplin Auto Care & Tire Pros services all aspects of your car's exhaust system, including the exhaust valve and piston, exhaust manifold, catalytic converter, exhaust pipe, and tailpipe. You can trust our team for the best exhaust repair and replacement services in Fremont, NE.